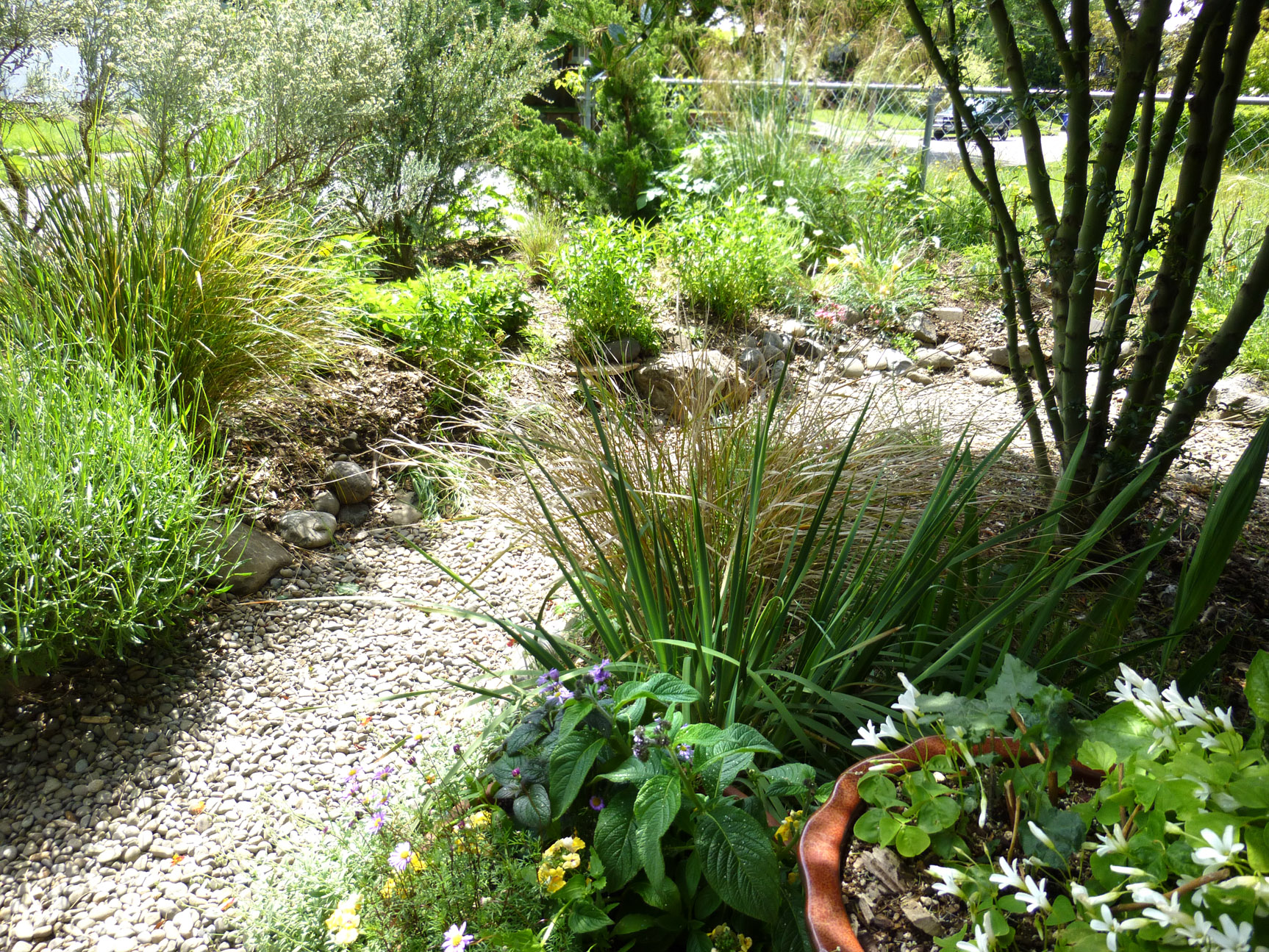 For more examples of Terraccord's ongoing work, please find us on Instagram and Twitter.
Case Studies
Irvington Historic Makeover
This Historic Landmarked Arts and Crafts home sits on a double-wide footprint. The owners were looking for a more resource-efficient, contemporary alternative to their large lawn. They knew they wanted something different, but were concerned a new layout may not provide enough space for their family to play. A new design revised the fence footprint, with serpentine bed lines and extended flagstone patio space that effectively showcase a growing collection of outdoor sculpture. We reorganized existing plants, and brought in many new ones, including a 650 sq foot 'lawn' of compact sub-alpine groundcover. New drainage systems cycle roof runoff back into the ground. A sense of play, and respect for wide open space, were maintained -- while allowing for a more complex, dynamic, and sustainable garden to emerge.
Beaumont-Wilshire Habitat Certified Garden
The homeowners wanted a place to gather in the front of the house, where they could interact with neighbors and also have the option for privacy. The backyard would be a place for entertaining, finding peace after a long week at work, and also provide space for the family dog. We rebuilt a pergola in the front out of FSC cedar and designed canvas curtains that can be drawn for privacy. The plantings in the front are colorful, xeric, and complement the tiered stone walls. Bricks, doug fir beams, and old sculptural elements were recycled from the backyard and used in a new sanctuary garden behind the garage. Curved steel trellises and a locally made fire pit provide additional gathering space on the new patio. The plantings are mostly PNW native, and loose basalt stones and gravel combined with evergreens evoke time spent hiking on Mt Hood.
Cottage Garden with Edibles and Fruit Tree Guilds, Southeast Portland
This full yard renovation incorporates recycled concrete from a demolished garage, old cyclone fencing for trellises, and rain barrels on three sides to catch and store water off the large roof. The emphasis is on multi-use plants and edible planting combinations that help increase yields, repel pests, and replenish the native soils. Two low-voltage water features attract birds and beneficial insects, and a fragrant cedar path winds its way around the entire property. Winter-blooming perennials and shrubs offer color and joy during cold, gray days.
Client Testimonials
We were referred to Terraccord Landscapes by a friend, primarily for John's wonderful vision and incredible plant knowledge. Boy was that right on! They did such an amazing job, that a realtor contacted us, out of the blue, because their client saw our yard and loved it so much they asked us if we were interested in selling. John was completely vested in our project and remains so. He has followed up on a regular basis since the project was completed and has been more than willing to educate us about the care of the yard with each passing season. We are so happy with our yard and no matter how much time we spend in it, we can't be satiated. John clearly LOVES what he does and so do we! - Seth & Michelle Mehr, Portland.
***
I would highly recommend John and Terraccord Landscapes! After just a short conversation about our goals for our annual event, John created some beautiful pieces that transformed our event space and not only conveyed our organization's mission - it seemed to bring it to life. - Jonathan Jelen, Oregon Wild
***
Terraccord Landscapes did a great job re-landscaping my entire property. John's attention to detail and eye for landscape are terrific. In addition to landscaping, they also tore out old concrete steps and replaced them with beautiful new steps, as well as taking care of all the drainage which was quite complicated at this house--they did a great job. Overall I couldn't be happier with the way the job turned out and would recommend Terraccord to anyone. - Eric Kuehne, Laurelhurst, Portland.
***
John Movius of Terraccord Landscapes really does beautiful landscaping work, and I've had the pleasure of working with him on a few projects. His work is more than landscaping -- it is holistic, filled with vitality, and joyful. - Chris Sanderson, Builder By Bike.
***
He was great to work with, a good listener and delivered a wonderful product. - Caitlin Clark, Montavilla, Portland.